55th Annual Delaware Antiques Show Catalogue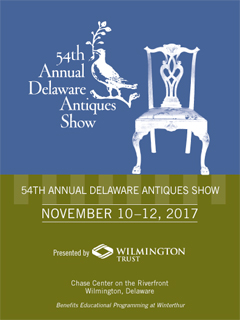 View the 2017 Delaware Antiques Show catalogue here!
Advertising

With top-flight exhibitors, speakers, and show features designed to draw thousands of antiques and interior design enthusiasts, the 55th Annual Delaware Antiques Show promises to be bigger and better than ever! The success of our show can be attributed, in large part, to the generosity of sponsors, media partners, and advertisers, whose support directly benefits educational programming at Winterthur.
Advertise in the official 2018 Delaware Antiques Show catalogue! Distributed at the exclusive Opening Night Party and to all attendees of the show, this 160-page keepsake is now enhanced with expanded editorial and show-related content. The official show catalogue is a highly visible means by which to reach a sophisticated and influential audience with your message.
This year, as a way of saying "thank you" for supporting our show and helping to fulfill our educational mission, advertisers will:
Enjoy lasting recognition in our official show catalogue;
Receive four complimentary show tickets to share with employees or customers;
Earn visibility and acknowledgment on our website. An electronic flip-book version of the show catalogue, displayed on the show's official website (winterthur.org/das) throughout the year, reaches thousands of additional prospects with ample buying power.
Receive two complimentary copies of the official show catalogue.
For more information about advertising benefits and opportunities, please see our Catalogue Media Kit.

For questions and inquiries related to advertising in this year's show catalogue, please contact:
Hillary Holland
302.388.4614
Questions?
For more information on the show, e-mail das@winterthur.org.